ACUVUE® OASYS with Transitions™ 6-Pack
$39.87 per box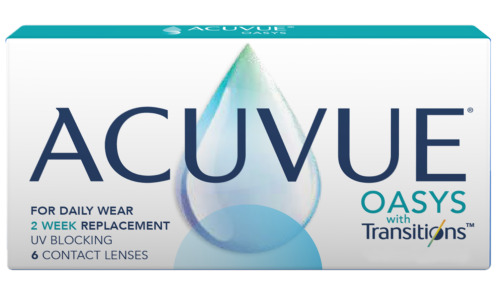 ACUVUE® OASYS with Transitions™ 6-Pack
$39.87 per box
Material: senofilcon A
Wear & Replace Schedule: Weekly
Water Content: 38%
Order Contacts
---
Your contact lens prescription will be verified and your order shipped by a retail partner of Costco.
Your order will ship only after the prescription has been verified.
Allow up to 8 additional business hours for your prescription to be verified if no image is provided.
To expedite the prescription verification process, upload an image of your current, valid prescription.
Information regarding your contact lens order may be considered health information.
By placing a contact lens order you specifically request and authorize us to include contact lens information in order-related e-mails that we send you.
We cannot ship contact lenses to members in Arkansas.
Enjoy all day soothing vision with first-of-its-kind light adaptive contact lens. ACUVUE® OASYS Contact Lenses with Transitions™ reduces squinting by 38%, on average.
ACUVUE® OASYS with Transitions™ seamlessly adapts to balance the amount of indoor and outdoor light entering the eye, including filtering blue light and blocking UV rays
ACUVUE® OASYS with Transitions™ quickly fades from dark to clear (within 90 seconds) when going from outdoors and indoors
Life looks more vivid, more vibrant, more true by providing up to 38% better color contrast.
Material: senofilcon A
Wear & Replace Schedule: Weekly
Water Content: 38%
Package Size: 6 Pack
Manufacturer: Johnson & Johnson
The estimated delivery time will be 5 - 7 business days from the time of prescription verification.
Orders can only be shipped once your prescription is verified. To prevent delays and receive your contacts faster, you can . Made to Order contacts take longer to process and may require additional delivery time.
View Costco's Return Policy.
How to Return: For an immediate refund (including shipping and handling), simply return your purchase at any one of our Optical departments inside Costco warehouses worldwide. If you are unable to return your order at one of our warehouses, please contact Customer Service. To expedite the processing of your return, please reference your order number.
If you request a small parcel item be picked up for return, the item must be packaged and available for pick up in the same manner as it was delivered.