AIR OPTIX® Plus HydraGlyde Multifocal 6-pack
$82.98 per box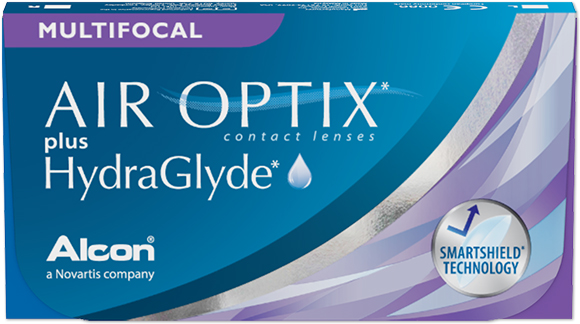 AIR OPTIX® Plus HydraGlyde Multifocal 6-pack
$82.98 per box
Material: Lotrafilcon B
Wear & Replace Schedule: Monthly
Water Content: 33%
Order Contacts
---
Your contact lens prescription will be verified and your order shipped by a retail partner of Costco.
Your order will ship only after the prescription has been verified.
Allow up to 8 additional business hours for your prescription to be verified if no image is provided.
To expedite the prescription verification process, upload an image of your current, valid prescription.
Information regarding your contact lens order may be considered health information.
By placing a contact lens order you specifically request and authorize us to include contact lens information in order-related e-mails that we send you.
We cannot ship contact lenses to members in Arkansas.
AIR OPTIX® plus HydraGlyde® Multifocal contact lenses combine two unique technologies, SmartShield Technology® and HydraGlyde® Moisture Matrix, so that you can experience consistent comfort1* and long-lasting lens surface moisture.2,3 In addition, AIR OPTIX® plus HydraGlyde® Multifocal lenses feature the same Precision Profile® Design4  as AIR OPTIX® AQUA Multifocal lenses. The Precision Profile® Design allows for a range of prescription strengths toblend across the lens. It works with your eyes' natural function for uninterrupted clear vision, near through far.
*Based on clinical testing with AIR OPTIX® AQUA, AIR OPTIX® for Astigmatism, and AIR OPTIX® AQUA Multifocal contact lenses.

References: 1. Eiden SB, Davis R, Bergenske P. Prospective study of lotrafilcon B lenses comparing 2 versus 4 weeks of wear for objective and subjective measures of health, comfort, and vision. Eye Contact Lens. 2013;39(4):290-294.
2. In vitro study over 16 hours to measure wetting substantivity, Alcon data on file, 2015.
3. Lemp J, Muya L, Driver-Scott A, Alvord L. A comparison of two methods for assessing wetting substantivity. Poster presented at: 2016 Global Specialty Lens Symposium (GSLS); January 21-24, 2016; Las Vegas, NV.
4. Alcon data on file, 2017.

Important information for AIR OPTIX® plus HydraGlyde® Multifocal (lotrafilcon B) contact lenses: For daily wear or extended wear up to 6 nights for near/far-sightedness, presbyopia and/or astigmatism. Risk of serious eye problems (i.e. corneal ulcer) is greater for extended wear. In rare cases, loss of vision may result. Side effects like discomfort, mild burning or stinging may occur.

See product instructions for complete wear, care and safety information. RxOnly (symbol)
Material: Lotrafilcon B
Wear & Replace Schedule: Monthly
Water Content: 33%
Package Size: 6 Lenses
Manufacturer: Alcon Labs
The estimated delivery time will be 5 - 7 business days from the time of prescription verification.
Orders can only be shipped once your prescription is verified. To prevent delays and receive your contacts faster, you can . Made to Order contacts take longer to process and may require additional delivery time.
View Costco's Return Policy.
How to Return: For an immediate refund (including shipping and handling), simply return your purchase at any one of our Optical departments inside Costco warehouses worldwide. If you are unable to return your order at one of our warehouses, please contact Customer Service. To expedite the processing of your return, please reference your order number.
If you request a small parcel item be picked up for return, the item must be packaged and available for pick up in the same manner as it was delivered.