clariti® 1 day multifocal 90-pack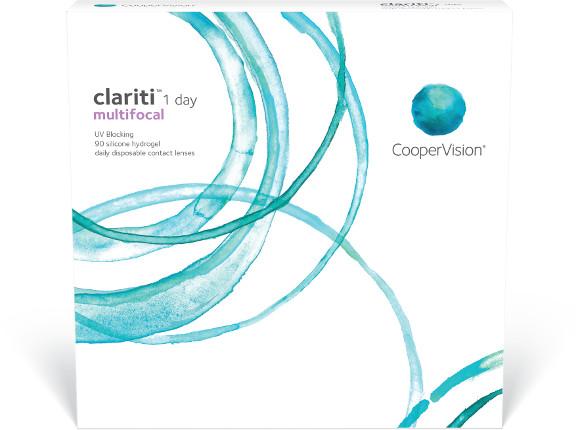 $80.19 per box
Material: somofilcon A
Wear & Replace Schedule: daily
Water Content: 56%
---
Correct your presbyopia the healthier* way with silicone hydrogel, daily disposable lenses.

AT A GLANCE
Convenient daily replacement schedule
The healthier advantages of silicone hydrogel lenses
Vision correction for presbyopia—focus close up, far away and in-between
Supports excellent all-day comfort
UVA and UVB protection**

FOOTNOTES: *Data on file; clariti® 1 day offers whiter eyes than 1-DAY ACUVUE® MOIST®.
**Warning: UV-absorbing contact lenses are not substitutes for protective UV-absorbing eyewear, such as UV-absorbing goggles or sunglasses, because they do not completely cover the eye and surrounding area. Patients should continue to use UV-absorbing eyewear as directed.
Material: somofilcon A
Wear & Replace Schedule: daily
Water Content: 56%
Package Size: 90 pack
Manufacturer: CooperVision®
The estimated delivery time will be 5 - 7 business days from the time of prescription verification.
Orders can only be shipped once your prescription is verified. To prevent delays and receive your contacts faster, you can follow these steps: click here. Made to Order contacts take longer to process and may require additional delivery time.
View Costco's Return Policy.
How to Return: For an immediate refund (including shipping and handling), simply return your purchase at any one of our Optical departments inside Costco warehouses worldwide. If you are unable to return your order at one of our warehouses, please contact Customer Service. To expedite the processing of your return, please reference your order number.
If you request a small parcel item be picked up for return, the item must be packaged and available for pick up in the same manner as it was delivered.